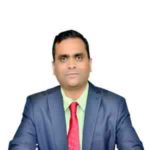 Dr. Rajendra Patil, D.N.B Cardiology is available in our Excellent Heart Hospital. He is head of our Interventional Cardiology Department.
Dr. Pramod Sarnot
Dr. Pramod Sarnot, is an Interventional Cardiologist at our Excellent Cardiac or Heart Hospital. He initially completed his MBBS from Pune University (Pune) which followed by MD (Medicine) and MS (Cardiology) from Ukraine.
Dr. Satyajeet Suryawanshi, is amongst the best Interventional Cardiologists in the city of Pune. Dr. Suryawanshi has completed his graduation and postgraduation from Mumbai (SION Hospital) and Pune (KEM Hospital)
Best Heart Hospital In Chinchwad
One of the Best Cardiac care center or Heart Hospital in Chinchwad, Pune is 7 Orange Hospital.  Our department of Interventional Cardiology, managed by Dr. Rajendra Patil, Dr. Pramod Sarnot and Dr. Satyajeet Suryawanshi. The Expert Cardiologists and Heart Specialist provide cutting edge interventional care to our cardiac patients.
As we are the Best Heart Hospital In Chinchwad area, we provide complete spectrum of clinical services are taken care of, which ranges from diagnosing the cause of chest pain in patients to performing complex percutaneous coronary intervention, guided by advanced technologies.
Specialist In Interventional Cardiology
We also have mastered the treatment of structural heart disease, such as transcatheter aortic valve replacement, closure of atrial septal defects percutaneous mitral valve procedures, etc.
The Team of cardiologists are competent in the clinical knowledge, clinical judgment, surgical skills, professionalism, and interpersonal skills required as a specialist in Interventional Cardiology in our best Heart hospital.
People of all age groups who have serious, sometimes life-threatening, cardiac conditions are successfully treated in our department.
Specialties Include In Our Excellent Heart Hospital:
Coronary Angiographies
Complicated Angioplasties Including Bifurcations, Rotablation
ASD Device Closure and PDA Device Closures
Bronchial Artery Embolization for Recurrent Haemoptysis
Peripheral stenting including Subclavian and femoral artery stenting
Coronary Angioplasties
Pacemaker Implantation Including Single Chamber and Dual Chamber Pacemakers
Various foreign body removals endovascularly
Balloon Dilatation of Congenital Pulmonary Stenosis
Balloon mitral valvotomies